You remember the comedic self-help book turned movie, The No-Excuse Truth to Understanding Guys that debuted about twelve years ago? Well if you missed it, it outlines many of the hilarious excuses people make as they obsess about the reasons a new love interest may not have responded to their advances.  Perhaps he didn't call back because he is… stuck on a deserted island…he isn't getting my messages…he is afraid of getting hurt.  When, the truth is, he's probably just "not that into you".
Whether relationships or in business, it can be tough to admit that maybe, just maybe, what you're doing is the real problem. Take, for instance, your website. Not getting the traffic or leads you really need and want from your business website? It could be that you're doing something wrong, and NOW, Google is "just not that into you".  Here are some clear signs that you might be setting yourself up for heart break:
You lack conversational skills

We've all been on dates where the other person did nothing but talk about themselves.  I remember one time, by the end of dinner, I knew my date's financial history, credit score, shoe size, allergies, genealogy, and frequent flyer status.  On the other hand, I'm pretty sure he didn't even know my last name.  By the end of the night, he gave me no information that made me want to take the next step. What was in this for me?  He cared nothing about my needs or what I was looking for.  Believe it or not, you could be painting the same picture of your business, and we don't want you to be "that guy".  When you're posting content on your website, think about what's in it for your readers. Who cares if you have had 8,000 patients and you are an expert at microdermabrasion – whatever that is. I just want someone to help me look younger! Can you help me with that? If so, then tell me. Use your business website to educate… to tell people how what you do will help them achieve what they want. Help possible customers, patients, and clients understand 'what's in it for me'.  When you do this, you become quite irresistible to Google – or as I like to refer to him – Biggie G. That said, it's not enough to have just one good conversation. Any one can be a one hit wonder. What's truly captivating is when you are labeled as a conversationalist. That's a relationship Google (or all you single folk) yearns to have.  In the eye's of Google, you'll be the front runner. And, honestly, Google is one of the cool kids. So, when your business starts getting pushed to the top of Biggie G, the other search engines will start paying attention. You'll be the envy of the online world, and you'll start to dominate the local search in your market.

You're not one of the cool kids

If no one else is talking about you, why should Google? Ever heard the saying, "who cares what they're saying – at least they're talking about me." It's usually spoken by someone who is being gossiped about (for some reason or another) but doesn't mind because they realize that with recognition comes the opportunity for esteem, for envy, for building a reputation. This holds true with business as well. What are your customers saying about you? Do they say you're great? Do they say you could be better? Or, do they say nothing at all? Google is no dummy. They want to know what the cool kids, or the paying customers, have to say about your business. And, in the eyes of Biggie G, if customers are not saying anything, why should Google? I mean, Biggie G does have a rep to protect. Thus, the importance of online reviews. Every customer, client, patient, your business services should be an opportunity to learn. What did you do that they loved or that they hated?  Would they recommend you to a friend? Make it easy for customers to leave reviews for you. For instance, when you're done with the service or product you've provided, shoot them over a quick email with a link to "review our service in less than 2 minutes". Automating this through a reputation management or review monitoring service is the easiest way to do this; however, it can certainly be done on your own as well. The more search engines see that people are talking about you, the more they will too. So, start racking up those reviews, and you'll build a pretty solid reputation yourself. You can review us on Google, Yelp, Facebook, and most other local citation sources!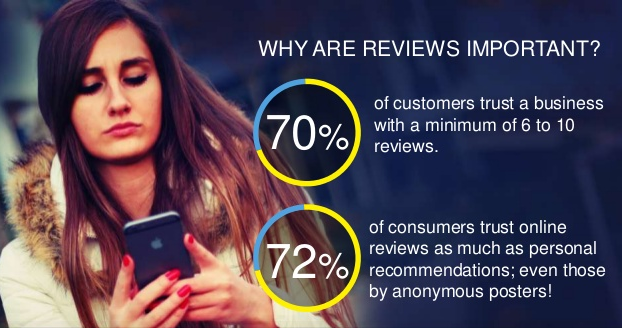 3.  You can't be trusted.  
Relationships are built on trust. Duh. Who wants to be around someone who, in the words of The Band Perry, lies like cheap rug?  A word of advice, tell the truth, and you'll have nothing to worry about.  Works the same for Google. Biggie G won't put any trust in your business if you can't keep your story straight.  This isn't a one and done thing. You're building a relationship with Google; and, since we all know that some things you see on the Internet aren't true (shocker), it's imperative for your business to portray an accurate and consistent image across ALL online profiles.  Name, Address, and Phone Number are key focus areas that local businesses must keep the same in every directory listing. If your contact information on your website reads:
Tom's Towing Service


123 Main Street
(555) 555-5555
Your business information needs to read exactly the same on your social profiles such as Yelp, Foursquare, Bing, Facebook and every other source that lists your business online.
Did you spell out the word Street instead of using the (St.) abbreviation? Every apostrophe, hyphen, ampersand, and period counts; so, keep it consistent.
Think about the same concept in the dating world, if you're 6'3 with 6 pack abs on Facebook, it's probably not a great idea to show up being 5'10 with a mini-keg. So, don't do that to Google either. If you talk the talk, you gotta walk the walk.  So, put these practices into action today so your business can get off the loser list and really start to woo Google. 
Amiee Ball
Contributing Guest Blogger